Foot Locker and NBA's Collin Sexton Surprise 20 High School Seniors with $20,000 Scholarships and Spread Hope Amid Pandemic
May 28, 2020
The unsuspecting student athletes received the news during a virtual discussion on COVID-19's impact on their senior year.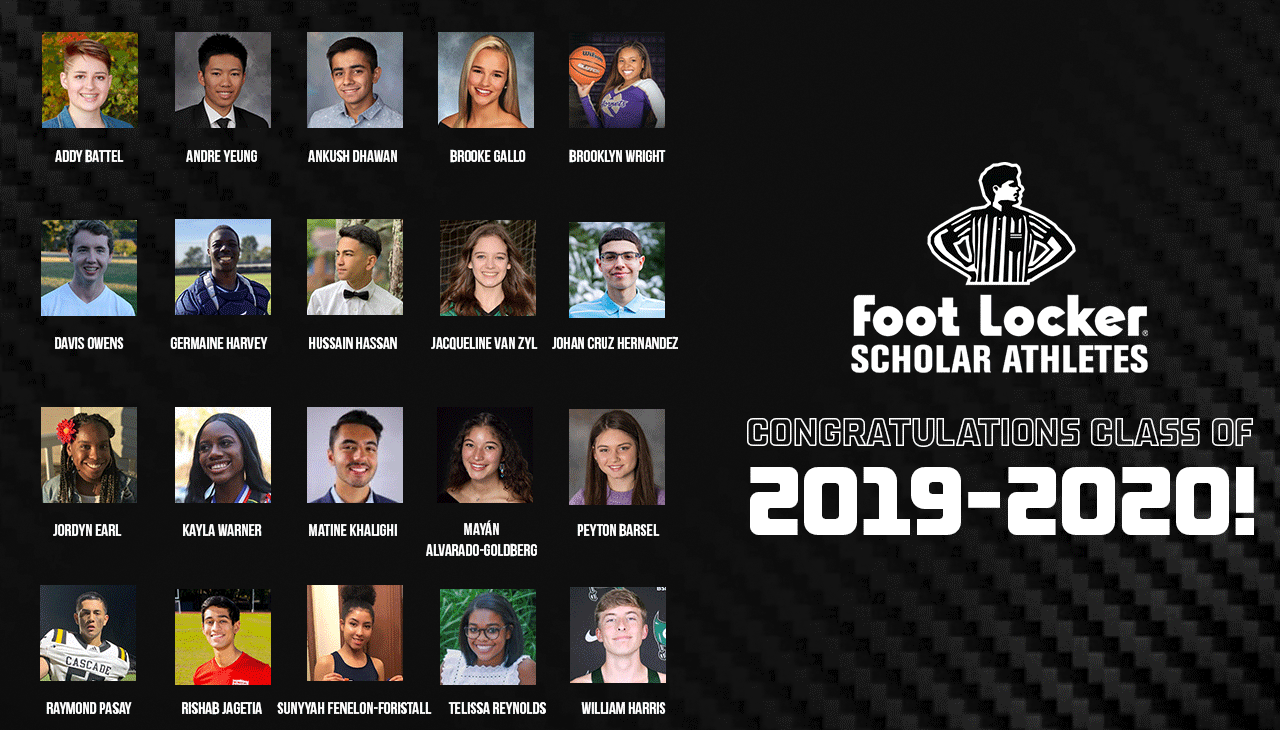 School closures continue to impact millions of students across the country who are no longer able to experience the moments they've dreamed about and worked toward. This year, they won't be able to walk across the stage to receive their diploma as cheers from their peers and loved ones pour out from the stands. During a time when these high school seniors and their families are facing more uncertainty about their economic futures than ever before, the Foot Locker Foundation continues to support college accessibility and affordability for outstanding student athletes through its Foot Locker Scholar Athletes Program (FLSA).
For the ninth consecutive year, the Foundation surprised 20 exceptional student athletes with $20,000 game-changing scholarships in support of pursuing their dreams this past week. Since Foot Locker was unable to surprise these FLSA winners at their high school campuses like in years' past, the Foundation partnered with Do Something to invite the unsuspecting students to a virtual discussion, facilitated by Tony Mui, content creator and media personality, to connect with one another about how the COVID-19 pandemic is impacting their lives and communities.

The robust discussion explored how students are coping and provided an opportunity for them to share words of advice to their fellow high school seniors. "People have to have patience," said Rishab Jagetia of Houston, TX. "I miss my senior year so much. I wish I could be with all of my friends. But I know if I take the right actions now to try to flatten the curve, it's going to play out later."
The students were then surprised with a celebratory reveal by NBA player Collin Sexton, who announced that they were all actually winners of the 2019-2020 Foot Locker Scholar Athletes Scholarship. "I know it's been tough for high school seniors everywhere, who have had to miss out on major milestones," said the Cleveland Cavaliers guard. "I'm honored to team up with Foot Locker to help reward these student athletes for all of their hard work and dedication, especially during this time." View the virtual discussion on Foot Locker's YouTube channel.

Senior Jacqueline van Zyl of Peachtree City, GA, is another one of the incredible 20 students who was awarded the prestigious Foot Locker Scholar Athletes Scholarship. Selected for her stellar performance on and off the court, Jacqueline van Zyl is the embodiment of a world-class athlete and academic achiever. Jacqueline plays varsity soccer and has earned a position on a National League team with AFC Lightning. Uniting her passion for soccer and uplifting others, Jacqueline co-founded Kickoff for Kurland, a global charity that provides sports equipment and uniforms to support South African township soccer teams. Her original and ground-breaking research in Computational Biology and Bioinformatics, led her to invent life-impacting devices for people with disabilities She won numerous awards in science, engineering, and robotics, including the Intel International Science and Engineering Fair Grand Award and being selected for the Research Science Institute at MIT. With a deep passion for science and engineering, she co-founded her school's STEM Student Leadership Committee and serves as President of the Technology Student Association to inspire involvement across STEM.
Jacqueline is a true symbol of the values of the Foot Locker Scholar Athletes Program, and the Foundation is proud to announce her as the recipient of the Ken C. Hicks Scholarship. This additional $5,000 scholarship (totaling $25,000) is awarded each year to one of the 20 inductees for exemplifying superior academic achievement, passion for the community, and a true love of the game. It is named in honor of Foot Locker's former Chairman and CEO.

"In these unprecedented and challenging times, we're more committed than ever to supporting and empowering young people to pursue their dreams and attend college," states Richard A. Johnson, Chairman & Chief Executive Officer of Foot Locker, Inc. "The Foot Locker Scholar Athletes program continues to be an important platform to celebrate some of the most talented and exceptional young scholar athletes across the country, who are making a tremendous impact within their communities."
This year's awardees come from diverse backgrounds and represent a variety of sports disciplines, personal achievements, and community involvement. Despite overcoming economic hardships, loss, natural disasters, and chronic illnesses, these young people have created inspiring opportunities through leadership in athletics, academics and within their communities. To learn more, visit https://footlockerscholarathletes.com/
Press Release: Download PDF